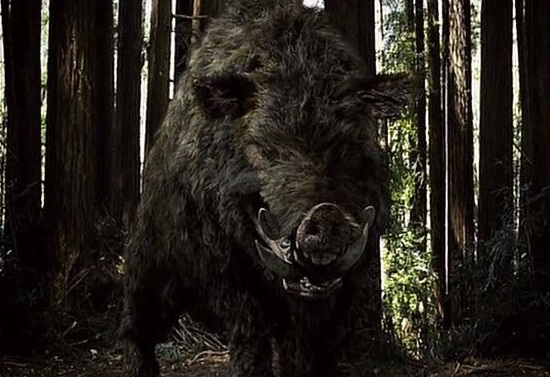 In 2006 pigs were released into the wild from the Capitan Grande Indian Reservation into San Diego county where a small population of wild pigs may have already existed. This year there authorities in Sand Diego estimate that there are between 200-300 of these destructive beasts in the area and are afraid of the environmental damage that comes from large populations of feral pigs. Fearing hunters aren't taking enough of the animals the government is proposing an aggressive and expensive pig extermination program that will include everything from federal hunters to helicopter assaults:
When it comes to controlling the spread of feral pigs in San Diego County, the public hunting effort isn't doing the job.

That has led federal agencies to launch an ambitious program that will use cage traps, corral traps, federal hunters with guns and dogs and even shooting from helicopters to exterminate the area's population of wild swine. Officials see the pigs as a threat to fragile ecosystems and public health and safety. Environmentalists worry about the damage wild pigs will do to the county's sensitive habitat, much of it rebounding from Southern California's catastrophic wildfires of the last decade.

[…]

"Our focus has to be what we can do at this point to control the effect they are having now," said Joan Friedlander, supervising ranger of the Palomar District of the Cleveland National Forest. "But it also has to be about controlling the population, keeping it low and at a threshold so it's not growing exponentially and beyond what we can handle."

The project will be carried out by personnel from the U.S. Forest Service, the BLM, the USDA Wildlife Services or other agencies or their representatives. Pigs that are trapped will be euthanized on-site or taken off-site to be euthanized. Carcasses will be disposed of according to local and state statutes.

The present scoping period in which the public may comment on the project began Saturday and extends to June 26. Pete Gomben, the Forest Service's environmental coordinator, said after June 26, a draft environmental assessment will be drawn up, and the public will have another 30 days to comment on that draft document.

"We want to get as much feedback from the public as possible," Gomben said, adding that a public forum likely will follow to get more input from the public before the extermination program begins.

By summer's end, the pig project could be in full force, and it's expected to be very expensive. Friedlander said the price tag depends on how much aerial work is done and how much telemetry satellite work is involved in it.

"The cost is variable," she said. "But it won't be inexpensive. It will be in the hundreds of thousands of dollars."
There are two problems with this plan. The first is that not only is it too expensive a program for a state that is for all intents and purposes bankrupt, but pig hunting has become a source of revenue for San Diego county they can't afford to loose:
A proposed extermination of feral pigs in San Diego County by federal agencies has put one California state agency in a very tough spot.

The California Department of Fish and Game lists the wild pig as one of its game species. It sells wild pig tags, right now going for $19.83 for the 2011-2012 hunting season. Hunters pay $41.46 for a hunting license and still need a separate tag to hunt wild pigs. There is no limit. There is no season. It's all the hunters want and can afford.

With data still being gathered, the DFG reports it sold 51,982 tags (at $19.95 each) statewide for the 2009-10 season. That's a revenue stream for the state of just over $1 million.
Meaning that if successful there will be a bigger hole in California's budget. More and more hunters have been taking to hog hunting because there are no limits and for families who use hunting to supplement their larders the $60 a year may well be worth it for the pork they can put in the freezer. No one I know of expects demand for hog tags to go down anytime soon. I believe demand will go up, and so could San Diego's revenue stream. So they state worker's are incentivized to ensure this program fails.
The second problem is that it's too little, too late. People who spend time in the back country say that the government is underestimating the population in a big way. The population may already be too well established to cull, in which case San Diego's only option is to try to encourage as much hunting as possible just to keep the population at bay. This might be a sportsman's boon but it's an environmentalist's nightmare.